Product Description
C300-01100017A10101AB100
Commander C300
Open Loop AC Drive with Dual Safe Torque Off Channels
0.33HP 1.7A
50/60Hz 115VAC Single Phase Input, 230VAC 3 Phase Output
Commander C200

0.33 hp – 200 hp (0.25 kW – 132 kW) Normal Duty
0.33 hp – 150 hp (0.25 kW – 110 kW) Heavy Duty
115 V | 208 - 240 V | 380 - 480 V
Commander variable speed drives have established the standard of excellence in motor control since 1983 when Control Techniques launched the first world commercial vector drive. Since then, Commander has undergone several successful enhancements, each time bringing new technology and innovations to the world of automation.
The new Commander C series has been designed to be a simple and compact AC motor speed controller that meets advanced requirements for a wide range of applications while optimizing the user experience.
Commander C Highlights

✓ Set just 4 parameters to get your drive started
✓ Plug-in options for advanced control
✓ Dual Safe Torque Off (STO)
✓ Equipped with the latest energy saving features
✓ Up to 180% overload for high torque applications
✓ On board PLC
✓ Straightforward installation and commissioning
✓ Easy motor pairing and performance control
✓ Robust and reliable design
Simple set up. 3 steps to control
Setting up a drive can require training, specialist knowledge and time.
But Commander C will get you up and running, from out of the box to controlling your motor, in minutes.
Three simple steps will set up your drive for most fan, pump, compressor, conveyor and general purpose applications!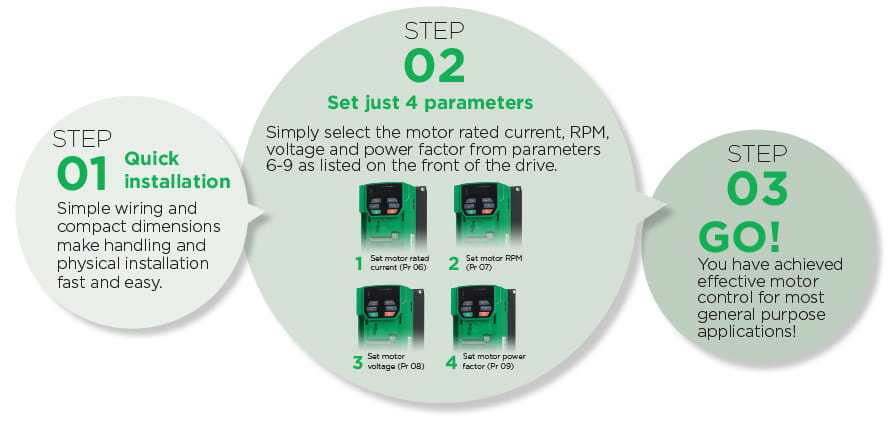 Specifications
Control Mode
| | |
| --- | --- |
| Open loop vector or V / Hz induction motor control | ✓ |
| Open loop Rotor Flux Control for induction motors (RFC-A) | ✓ |
Environment
Ambient Operating Temperature

Size 1 - 4: -20°C to 40°C (-4°F to 104°F) @ 3 kHz switching freq. | Operation to 60°C (140°F) with de-rating




Size 5 - 9: -20°C to 40°C (-4°F to 104°F) @ 3 kHz switching freq. | Operation to 55°C (131°F) with de-rating

Cooling Method

Forced convection

Humidity

95 % non-condensing at 40 °C (104 °F)

Storage Temperature

Size 1 - 4: -40°C to 60°C (-40°F to 140°F) — 24 months Max.




Size 5 - 9: -40°C to 55°C (-40°F to 131°F) — 24 months Max.

Altitude

De-rate the continuous output current by 1% for every 100 m (328 ft) above 1000 m (3,280 ft) to a maximum of 3000 m (9,840 ft)

Vibration

Tested in accordance with IEC 60068-2-64 and IEC 60068-2-6

Mechanical Shock

Tested in accordance with IEC 60068-2-27 and IEC 60068-2-29

Enclosure Rating

IP20, NEMA 1 conduit kits available

Electromagnetic Capability

IEC/ EN 61800-3 Immunity and Emissions




EN 61000-6-2: Immunity for industrial environments




EN 61000-6-4: Emissions for industrial environmentsM/br> EN 61000-3-2: Harmonic current emissions




An EMC data sheet is available on request

RoHS

Complies with the Restriction of Hazardous Substances Directive (2011/65/EU)
AC Supply Requirements
Voltage

100 V models: 100 to 120 Vac ±10%




200 V models: 200 to 240 Vac ±10%




400 V models: 380 to 480 Vac ±10%

Phase

1Ø and 3Ø (Model dependent)

Maximum Supply Imbalance

2% negative phase sequence, 3% voltage imbalance between phases

Input Frequency

45 to 66 Hz

Input Displacement Power Factor

0.97
Control
Switching Frequency

Size 1 - 4: 0.667, 1, 2, 3, 4, 6, 8 12 & 16 kHz




Size 5 - 9: 2, 3, 4, 6, 8 12 & 16 kHz

Output Frequency Range

0 to 550 Hz

Frequency Accuracy

±0.02% of full scale

Frequency Resolution

0.01 Hz

Analog Input Resolution

Voltage mode: 11 bits (unipolar) Current mode: 11 bits

Braking

Dynamic braking transistor included, requires external resistor
Protection
DC Bus Undervoltage Trip

100 V models: 175 Vdc




200 V models: 175 Vdc




400 V models: 330 Vdc

DC Bus Overvoltage Trip

Frame sizes 1 - 4:




100 V models: 510 Vdc




200 V models: 510 Vdc




400V models: 870 Vdc

Frame size 5 - 9:




200V models: 415 Vdc




400 V models: 830 Vdc

Drive Overload Trip

Programmable: Default settings: 180% for 3s, 150% for 60s

Instantaneous Overcurrent Trip

220% of rated motor current

Phase Loss Trip

DC bus ripple threshold exceeded

Over-temperature Trip

Drive heatsink temperature exceeds 95°C (203°F)

Short Circuit Trip

Protects against output phase-to-phase fault

Ground Fault Trip

Protects against output phase-to-ground fault

Motor Thermal Trip

Electronically protects the motor from overheating due to loading conditions
Approval & Listings
UL, cUL

UL file NMMS/8: E171230

CE

CE approval

EU

These products comply with the Restriction of Hazardous Substances Directive (2011/65/EU), the Low Voltage Directive (2014/35/EU) and the Electromagnetic Compatibility Directive, (2014/30/EU).

RCM

RCM Registered supplier No. 12003815281

ISO

Manufacturing facilities comply with ISO 9001:2015 and ISO 14001

TÜV

C300 models only: The Safe Torque Off (STO) function may be used as a safety component of a machine.

Type examination certificates by TÜV Rheinland:
Frame sizes 1 - 4: No. 01/205/5383.03/18
Frame sizes 5 - 9: No. 01/205/5387.02/18

Functional safety parameters:
EN ISO 13849-1 - Cat 4, PLe
EN61800-5-2/EN62061/IEC 61508 - SIL 3

UL functional safety approval: FSPC E171230
Applications
Whatever your application, Commander C is the perfect solution across industries
The Commander series are simple and compact AC motor speed controllers that meet advanced requirements in a wide range of applications. Their small footprint – among the smallest in their class – makes them ideal for machine builders and OEMs, where space is at a premium.
Pumping, Ventilating & Compressing

Improved energy efficiency during periods of low demand

On board PLC & PID functionalities make advanced control easy and efficient without the need of an external controller

Skip Frequencies allow users to easily avoid equipment resonant frequencies, reducing high vibration levels

Supply Loss Ride Through will keep the drive up and running through most power disturbances

Conveying

Accurate remote speed control with fieldbus communications

S-ramp acceleration / deceleration profiling provides smooth speed transitions minimizing machine jerk

Avoids early wear and tear of the equipment

Overload capacity up to 180%

Lifting, Hoisting & Winching

Adjustable mechanical brake sequencing with torque proving function

Embedded PLC functionality can manage local I/O reducing the need for an external controller

Access Control

Smooth motion with enhanced open loop control

Small physical size allows the drive to be mounted easily in smaller enclosures

Highly reliable in harsh environments, providing long lasting service

Processing (Mixers, Kneaders, Crushers, Agitators, Centrifuges, Extruders)

Ease of integration to external PLC or other management systems through networking options

Conformal coating for enhanced environmental protection

Overload capacity up to 180%

Highly stable motor control
Options
Keypads
| | |
| --- | --- |
| | The keypad is remote mountable, allowing flexible mounting on the outside of a panel (meets IP54/NEMA 12). Three line plain text, multi-language LCD keypad for rapid set-up and helpful diagnostics. Battery operated real-time clock allows accurate time stamping of events, aiding diagnostics. |
| | Remote mountable, intuitive plain text, multilingual LCD keypad for rapid set-up and superior diagnostics (using the AI-485 adaptor along with a comms lead). Rapid and secure panel fit with 1 x 32mm hole rated to IP66 (NEMA 4). |
System Integration Modules - Communications
| | |
| --- | --- |
| | SI-PROFIBUS interface module enables follower connectivity. It is possible to use multiple SI-PROFIBUS modules or a combination of SI-PROFIBUS and other option module types to add additional functionality such as extended I/O, gateway functionality or additional PLC features. |
| | SI-DeviceNet enables follower connectivity. It is possible to use multiple SI-DeviceNet modules to provide additional functionality. |
| | Commander C's SI-CANopen interface module supports various profiles, offering optimum flexibility. |
| | SI-Ethernet can be used to provide high speed drive access, global connectivity and integration with IT network technologies. |
| | SI-EtherCAT allows Commander C general purpose drive to connect and interface with EtherCAT networks. |
| | SI-PROFINET-V2 allows Commander C to communicate and interface with PROFINET PLCs and networks. |
System Integration Modules - Additional I/O
| | |
| --- | --- |
| | Extended I/O interface module to increase the number of I/O points on a drive. Provides additional: 4 x Digital I/O, 3 x Analog inputs (default)/Digital inputs, 1 x Analog output (default)/Digital input, 2 x Relays. |
Optional Accessories
Port adaptor for SD card parameter cloning, and an input for 24 V back-up.

Has a built-in memory for parameter cloning and an input for 24 V back-up.

Adaptor that allows the drive to communicate via RS485.

AI-485 24 V Adaptor

Adaptor with 24 V input.

The USB comms cable allows the drive to connect to a PC for use with Commander's PC tools.
Software and Support
Intuitive commissioning software
Based on Control Techniques' 25 years' experience, Connect is our latest drive configuration tool for commissioning, optimizing and monitoring drive/system performance.

DOWNLOAD
Advanced machine control
Control Techniques' Machine Control Studio provides a flexible and intuitive environment for programming Commander C's new automation and motion control features.

DOWNLOAD
Diagnostics Tool
Diagnostic Tool is a fast and simple tool, which allows users of Control Techniques' drives to quickly solve any error codes that the drive may show.

DOWNLOAD
Drive Setup
Drive Setup

Free access web pages provide 'how-to' videos, step by step guides and comprehensive technical manuals for your installation.
Other Details
Standard industrial product 5 Year Warranty - Includes exchange or factory repair at our option on lower power products, and on-site repair (parts & on-site time only) on higher power products as defined below. The warranty period starts from the date of shipment from Mechanical Electrical Systems (MES), unless otherwise specified. MES will provide ground shipment to the customer. The customer is responsible for returning the defective product to MES. Products that have not been used in accordance with the product manual, or that have been damaged due to unauthorized repairs will void the product warranty.
Product Videos
Custom Field
Product Reviews