Product Description
S100-03113-0B0000
Commander S100
Commander S100 115Vac Single Phase input / 230Vac 3 Phase Output
Max Cont Output Current (HP): Normal Duty - 3.2A (0.75HP), Heavy Duty - 3.2A (0.75HP)
Drives include EMC filters rated in accordance with IEC 61800-3, category C3
Commander S Micro AC Drive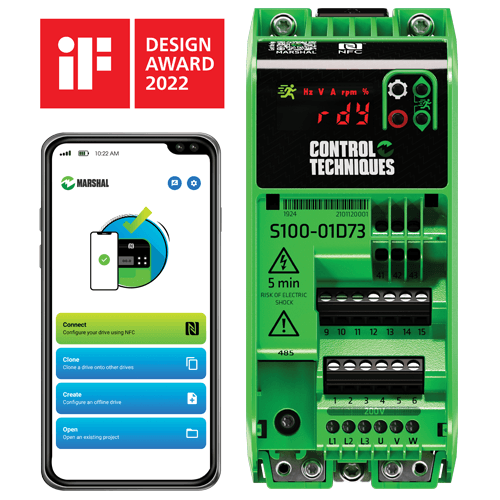 0.25 to 5 HP (0.18 to 4 kW)
1Φ 115 & 208-230 V, 3Φ 208-230 & 380-480 V

Making simple applications, simple.
Take charge of motor control and energy savings with the latest addition to the Control Techniques portfolio. With a feature set optimized for simple applications, Commander S provides a cost-effective solution for installations that require plug and play convenience straight from the box.

Commander S is the first drive to come with an app interface as a standard feature. The MARSHAL App is our revolutionary way to interface with the drive covering commissioning, monitoring, diagnostics and support.
Marshal: your drive expert in the field
Revolutionize the way you interface with your drive
Control Techniques has a long tradition of challenging the status-quo with innovative ideas and making a profound impact in the drives industry. And we've done it again with MARSHAL: Control Techniques is the 1st drive supplier to implement NFC technology as standard on a drive and offer the MARSHAL App interface at no extra cost.

MARSHAL is your drive expert in the field. This rich content interface means you can commission, clone, diagnose system issues and monitor the drive in just a few screen taps.
---
Easy To Install

The sleek curved design of Commander S optimizes component layout for a small footprint and easy access to terminals. The click-on/click-off DIN rail mount makes installation remarkably easy.

Easy To Use

Using our new Marshal app (Android/iOS) your drive can be configured in under 60 seconds.

Reliable

Durability is at the core of Commander S design, guaranteeing performance throughout its whole lifetime.

Cost Effective

Equipped with unique features designed to save you time, energy and money.
Making Simple Applications, Simple.
Flow Control Applications

Fans, Pumps, and Compressors

Improved energy efficiency during periods of low demand

PID functionality makes advanced control easy and efficient without the need of an external controller

Easily avoid equipment resonant frequencies and reduce high vibration levels using the skip frequency

Catch an already spinning motor to reduce start-up time and increase productivity

Motor thermal protection prevents overheating of the motor during operation

Fire mode maximizes availability of a building's smoke extraction system in the event of a fire. Once activated, the drive will run until failure

Moving Applications

Conveyors, Treadmills, Automatic Doors & Barriers

Reliable speed control with onboard communications
S-ramp acceleration / deceleration profiling provides smooth speed transitions minimizing machine jerk
Linear V to F with a controllable boost to get the machine running
Drive overload capacity up to 150% for rapid acceleration or load changes
DC braking with stop indication used to stop the motor quickly

Processing Applications

Mixers, Crushers, Agitators, Centrifuges, Kneaders, Spinning & Braiding Machines for Textile

Ease of integration to external PLC or other management systems with on board communications
Stability optimizer for improved motor control
Resistance compensation for excellent torque performance
Built-in EMC filter effectively reduces electromagnetic interference
Power & Control
Voltage

1Φ AC 115 & 230 V
3Φ AC 230 & 460 V
Power Range
0.25 to 5 hp / 0.18 to 4 kW

Duty Rating

Heavy Duty

Input Frequency

50/60 Hz

Output Frequency

0 to 300 Hz

Switching Frequency

4 kHz and 12 kHz

Motor Control

Linear V to F , Square V to F, Resistance, Compensation
Stopping Modes

Coast, Ramp, Ramp & DC Injection Braking, DC Braking with 0 Hz detect, Timed DC Braking, Distance Stop
Communications
Communications
RJ45 for Modbus RTU
NFC for app interface
Inputs & Outputs
Analogue
2 x Analog inputs
1 x Analog output
Digital
4 x Digital inputs
1 x Digital input / output
Relay

1 x Relay (single pole, double throw relay)
Standards
Approvals

CE, UKCA, cULus, C-Tick, EAC, KC

Product Safety
Standards
IEC/EN/KN/UL 61800-5-1, CSA C22.2 No.274, GB12668.501-2013
Emission
Compliance
C3 internal EMC filters
C1 & C2 with external EMC filters
C1 internal EMC filters, for selected 1Φ 230 V variants
Mounting & Environment
IP Rating
IP20

Mounting

Click on/click off DIN rail mount
Screw mount
0 mm side by side
Ambient
Temperature
Operation without de-rate: 14°F to 104°F (-10°C to 40°C)
Operation with de-rate: 14°F to 140°F (-10°C to 60°C)
Storage: -40°F to 140°F (-40°C to 60°C)
Remote Interface
Remote Keypad IP66
Remote mountable, intuitive plain text, multilingual LCD keypad for rapid setup and helpful diagnostics from the outside of a panel. Meets IP66 (NEMA 4).
HMI
The MCh panels and MChMobile Software have been designed for the easy development of HMI applications including factory and building automation.
Optional Extras
Cable Management Bracket
Use of the optional cable management bracket allows the wiring cables to be neatly secured under the drive.
Fiber Filter
The optional fiber filter allows the drive to operate efficiently even in environments prone to airborne fibers (e.g.: textile applications). Filter cleaning can be incorporated into the preventative maintenance cycle, lowering the risk of an unplanned outage.
RS485 Cable
The USB communications cable allows the drive to connect to a PC for use with Commander's PC tools.
App interface
Marshal app

Marshal is your drive expert in the field. This rich content interface means you can commission, clone, diagnose system issues and monitor the drive in just a few screen taps.
Intuitive commissioning software
Connect - Commissioning tool

Based on Control Techniques' 25 years' experience, Connect is our latest drive configuration tool for commissioning, optimizing and monitoring drive/system performance.

DOWNLOAD
Product Portal
Product Portal

Our product portal provides you with detailed product specifications, datasheets, 3D CAD models and product configurator.

GO TO PORTAL
Other Details
Standard industrial product 5 Year Warranty - Includes exchange or factory repair at our option on lower power products, and on-site repair (parts & on-site time only) on higher power products as defined below. The warranty period starts from the date of shipment from Mechanical Electrical Systems (MES), unless otherwise specified. MES will provide ground shipment to the customer. The customer is responsible for returning the defective product to MES. Products that have not been used in accordance with the product manual, or that have been damaged due to unauthorized repairs will void the product warranty.
Custom Field
Product Reviews